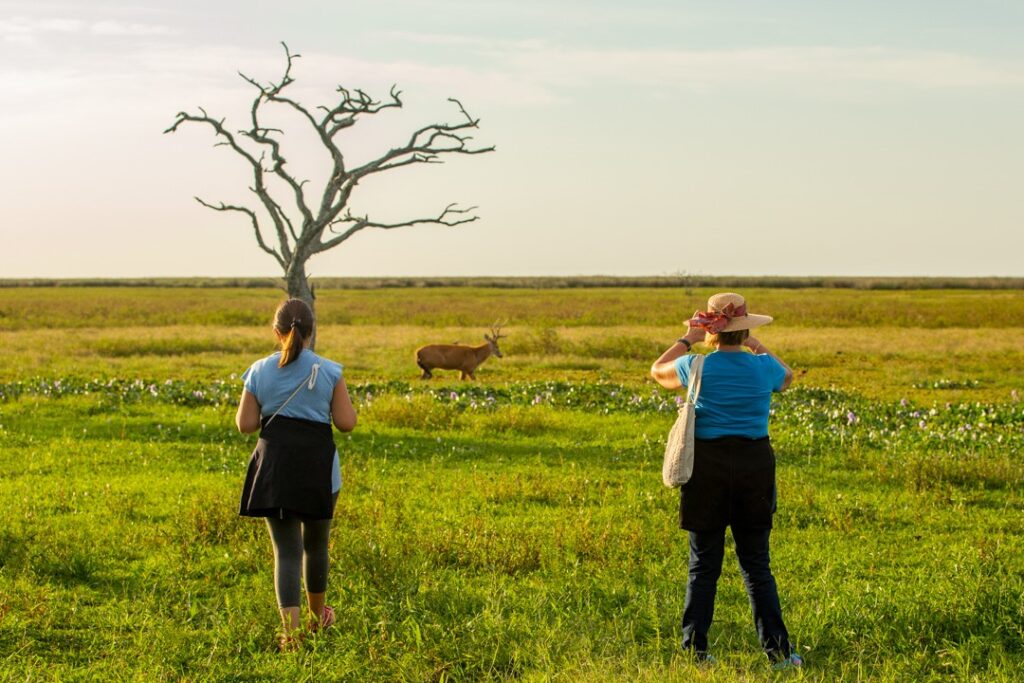 Description
Iberá is the second largest wetland of South America, with an extension of 12.000 km2 that guards both great biodiversity and a rich cultural heritage. The region emerges as a combination of different landscapes: in the lowest areas, the rain deposits its water in the wetlands and ponds that gave it its name; while the higher areas are characterized by small remnants of Paranaense jungles, palmar groves and never-ending grasslands briefly interrupted by small bundles of trees.
The Iberá Wetlands are home to more than 4.000 animals and plants species. It is an excellent location for bird watching, and visitors have the possibility of observing a wide array of native species like the yellow cardinal (Gubernatrix cristata) and the strange-tailed tyrant (Alectrurus risora), among others.
Also, for those looking for more adventure, we suggest to add a couple of nights in Iguazú! What qualifying adjective can one choose to describe Iguazú Falls? Unique, inexplicable, mighty, majestic, fresh, marvelous or giant may be right but still, these concepts are not wide enough to express what is in front of our eyes.
Through images and sounds, we try to capture part of that enchantment that we would like to keep till the last day in our lives!
Day 01 – Posadas – Esteros del Iberá
Reception at Posadas airport and private transfer to hotel in Esteros with driver-guide.
**Overnight at selected hotel
Day 02 – Esteros del Iberá
Full board and activities. Full Board: Breakfast, Lunch, Tea and Dinner with non-alcoholic beverages during meals. All activities are those proposed by your host on arrival and arranged directly by Rewilding Experience.
ACTIVITIES – Shared service with bilingual guide
The stay takes place between outings to the fields that can be on foot, horse, bicycle, vehicle or boat; all different but complimentary ways of experiencing the magnificent sightseeing and learning more about the local fauna. On foot, one will have the possibility of concentrating in looking for tracks and learning more about the diverse species, it is a good way to detect the presence of recently reintroduced animals. Alternatively, in outings on horse one will have a different point of view that will allow for an enjoyment of the landscape heightened by the contact with the animal,
which will easily sort through streams and pastures, and will also favor the sighting of deer, among other creatures. The boat will in turn allow the visitor to get close to the alligators, pampas deer and hundreds of birds without scaring them; and the nocturnal vehicle safaris will make possible magnificent encounters with a very active wildlife that takes advantage of the cool nights in order to go hunting.
At the lodge, one will have the possibility of enjoying the different areas of the house by relaxing by the pool, being captivated by the books in the library, or participating in the talks and videos that will allow the visitor to gain a deeper knowledge in the projects carried out by Rewilding Argentina. The ample gardens are constantly visited by the local fauna and can be easily walked in order to reach a nearby small wetland where one can observe and appreciate the native animals. In addition, the vegetable garden provides another beautiful attraction through its sustainable growth and its productions of vegetables that reach the everyday meals.
**Overnight at selected hotel
Day 03 – Esteros del Iberá
Full board and activities.
**Overnight at selected hotel
Day 04 – Esteros del Iberá – Iguazú
Breakfast at hotel.
Transfer in private service from hotel to Puerto Iguazú airport/htl with driver-guide.
** END OF THE SERVICES **
 

OPTIONAL EXTENSION TO IGUAZU // ** Ask for more information. 
Visit the Galapagos Islands on a cruise! Dare to have a unique experience surrounded by…
Chilcabamba Mountain Lodge you can feel the stillness of the Andean highlands. It's a rugged,…