9D/8N ON THE AUSTRAL ROAD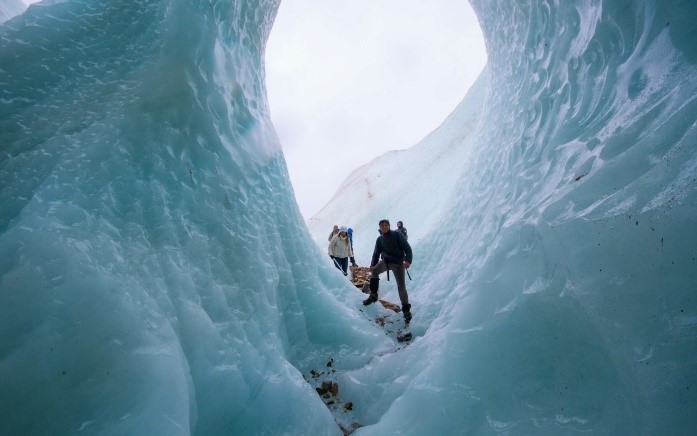 Description
This trip invites you to discover the main aspects of the central zone of the country. Santiago and its development over the years from different perspectives. Including its classic highlights and a day tour to Matetic's winery. Enjoy a typical countryside program made for you!  
Aysén region hides the best secrets on the austral road. Get your car and get ready to see the most amazing natural performances ever! The Marble Caves, General Carrera lake and the chance to make some ice-trek at "Exploradores valley".  
 By extending the trip, you only can make it better. Caleta Tortel, the counfluence between the Neff & Baker river or the death island among other places.  
Day 01: SANTIAGO 
Welcome to Chile! 
Upon your arrival to Santiago airport. Condor Travel's staff will be waiting to take you to your hotel. Please look for the sign with your name on it.  
Dynamic and cosmopolitan Santiago is a vital and versatile city. Home to many events showcasing the very best of Chilean culture, it also hosts superb international festivals of sound, flavor, and color. The Chilean capital breathes new life into all its visitors! 
The city's diversity shines through in its many contrasting neighborhoods. Set out to explore the city streets and you will discover beautiful and original art galleries, design shops and handicraft markets, as well as a great selection of restaurants, bars and cafes. Night owls can enjoy a taste of lively Latino nightlife in hip Bellavista! 
Overnight at Santiago 
Day 02:   SANTIAGO 
Full Day Chilean Countryside  
Enjoy a unique experience discovering the essence of Chilean countryside, its native forests, sheep and alpacas, on bicycle, on horseback or by foot at Matetic Vineyards. It is a fantastic outdoor excursion to enjoy the birds, trees and an unforgettable atmosphere of peace and quiet. After the excursion, enjoy the Corralillo Tour and finish up with a lovely lunch menu in Equilibrio Restaurant.
Meals included:

 Breakfast & Lunch

 
Overnight at Santiago 
Day 03:   SANTIAGO TO MALLIN COLORADO
After breakfast, get ready for flying to Balmaceda. A private transfer will take you to the airport on time. 
Upon your arrival to Balmaceda airport, get close to Mitta's rental car counter to pick up your car. Do not forget to check your car before signing the contract. 
After leaving the airport, you will drive to Puerto Guadal, a journey of 240 km aprox. This almost 5 hours trip is unique. Full of nature, fauna, and colors. After the first 3 hours, you will see the the beginning of the General Carrera Lake. On your way, you will pass trough Puerto Río Tranquilo, where the famous marble caves tour can be done! (Not included) 
If you want to make a stop for having lunch, Puerto Río Tranquilo is a perfect place. You will find different local options to choose. 
Meals included: Breakfast 
Overnight at Mallin Colorado 
Day 04:   MALLIN COLRADO
Today you are free to do what's best for you. However, we cannot stop suggesting an ice-hiking over the Exploradores glacier. (Not included).
Mallin Colorado Ecolodge also has their own trekking. Check their 4 hours trekking to visit Beltrand & Plomo lake. A stunning trail! 
Meals included: Breakfast 
Overnight at Mallin Colorado 
Salto de página 
Day 05: MALLIN COLORADO TO CALETA TORTEL
We recommend you start around 9 AM today. Your next destination is Caleta Tortel, it is located 200 km. away and this journey will take you 4.30 hours aprox. 
Among the incredible landscapes that Aysén region give us, we recommend you stopping at the confluence of the Baker & Nef rivers.  
A ground drop on the watercourse, of over 10 meters high, creates a huge waterfall and a sharp contrast between the turquoise waters of Baker River and the milky waters of Nef River. It is a picture-perfect sight for those who seek a more contemplative experience or for those who love photography. 
We recommend you carry a snack for enjoying the trip during the day. 
This area was traveled from prehistoric times by Kawesqar canoe nomads, now practically extinct. The first European to sight this territory would have been Hernando de Magallanes in 1520, naming it "Tierras de Diciembre". 
Meals included: Breakfast 
Overnight at Caleta Tortel 
Important:  
Caleta Tortel is a place where the electricity is provided with a set schedule. Make sure of charging your phone and camera. 
The p

arking site is 200 meters from the hotel

. You have to walk to your hotel.

 

Caleta

 

Tortel

 is a place

 

made of 

wet 

stairs

 due the humidity and the weather

. Not recommended for people with walking difficulties.

 
Day 06:   CALETA TORTEL
Today you have a day at leisure to choose what to do! Our recommendation is to visit the "Death island"  
(Not included) 
This island is located at the mouth of Baker River, it is characterized by is smooth and low-altitude and without much vegetation. However, is a historical monument as one of the first traces of settlement in the area and also by the legend of the workers who came to the area and it ended up dying after experiencing strange symptoms that deteriorating them: bruises on the legs and arms, bleeding, bleeding from gums, headaches and other ailments.
Meals included: Breakfast 
Overnight at Caleta Tortel 
Day 07:   CALETA TORTEL TO PUERTO RÍO TRANQUILO 
After breakfast, make your own way back to Puerto Río Tranquilo. Take your time and stop on the way making memories of all the stunning places visited.  
Meals included: Breakfast 
Overnight at Puerto río Tranquilo. 
Day 08:   PUERTO RÍO TRANQUILO TO SANTIAGO(B) 
Today you must leave the hotel at early morning to reach the airport on time to deliver the car back and return to Santiago. After landing at Santiago, your driver will take you to your hotel. 
Meals included: Breakfast 
Overnight at Santiago. 
Day 09:   SANTIAGO
After breakfast, we will take you to Santiago Airport on time to catch your flight back home. 
Meals included: Breakfast 
 ***END OF OUR SERVICES*** 
 INCLUDED AT SANTIAGO: 
Private first arrival transfer and 1 full day tour with German speaking guide.   
Private

 

transfers without guide

 after the arrival day

.

 

Chilean countryside full day program at 

Matetic

 winery

.

 

3 Overnights at 

Le Reve

 

hotel 

on STD

 DLX

 room with breakfast included.

 

Condor Assistance Gold

 
Last minute Deal! 50% OFF. Only for February 21st to 25th departure! *Conditions apply
Chilcabamba Mountain Lodge you can feel the stillness of the Andean highlands. It's a rugged,…
Cotopaxi is an active volcano in the Andes Mountains located about 50 km (31 miles)…