Cotopaxi – Chilcabamba Lodge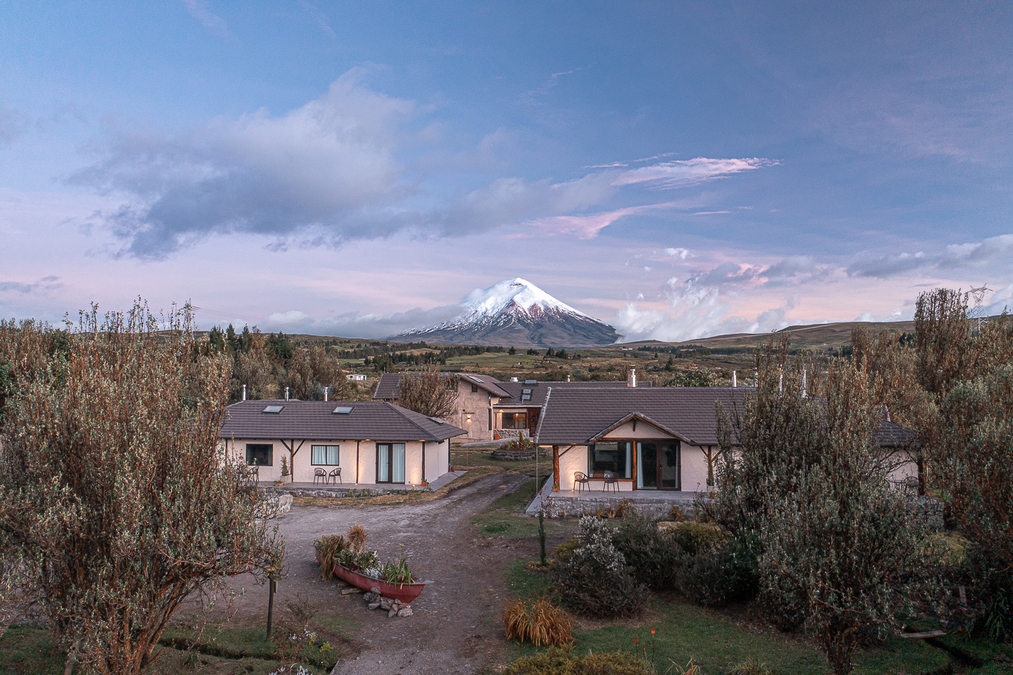 Description
Chilcabamba Mountain Lodge you can feel the stillness of the Andean highlands. It's a rugged, awe-inspiring place, where the birds float ever-higher on the mountain breezes. It is a sacred and silent place that offers peace and solitude. Even breathing the high alpine can be a restorative experience.
Day 1: Quito – Cotopaxi
Private transportation from Quito to Cotopaxi.
Cotopaxi National Park
We will visit the Cotopaxi National Park where, weather permitting, you will be able to see the snowcapped summits of the Cotopaxi and Antisana volcanoes.
We will also visit the Interpretation center to learn about the history of this spectacular volcano's major eruptions, as well as the local flora and fauna. We will then visit Lake Limpiopungo and explore the surrounding area on foot.
If you feel like a longer walk, a 2-hour hike will take us to Volcan Cotopaxi's J. Ribas refuge (4,800 meters / 15750 feet) where you will be able to enjoy spectacular views of the volcano and the surrounding Andean peaks. We offer traditional mountain hospitality with a dose of adventure.
Lunch included
Night at Chilcabamba Lodge (standard room)
Included: transportation, excursion, english speaking guide, lunch, bedroom and dinner
Day 2: Quilotoa
Quilotoa Lake
Today you will visit the volcanic crater of Quilotoa, where we can appreciate a serene lake and mysteries of green color. We'll have the option of a short walk of 1.7 km along the crater's slope.
On the way back, we will stop to visit the galleries of Tigua community where we can appreciate the paintings that represent the folklore of this area in ​​the Andes, art that has transcended and up to the third generation.
Lunch included
Night at Chilcabamba Lodge (standard room)
Included: breakfast,  transportation, excursion, english speaking guide, entrance fees, lunch, bedroom and  dinner
Day 3: Cotopaxi – Quito
Indigenous Markets-Cotopaxi
Today, after breakfast, we will travel to a traditional indigenous marketplace in the Cotopaxi area. Local markets are part of Ecuadorian traditional culture; the places where indigenous communities buy food and accessories; this is a real contrast to how we shop in our regular supermarkets.
*Markets take place on the following days: Tuesday: Latacunga – Wednesday – Sunday: Pujili – Thursday: Saquisili – Saturday:  Zumbahua.
Later we will continue with the visit the plantation of a world class rose producer. Ecuadorian roses are recognized as being some of the finest, and are exported to all parts of the globe. On the farm the company produces unique beautiful multi colored roses for the most discerning customers. Our guide will show us the process of producing high quality roses and explain the research that has gone into producing the spectacular colors of the flowers. Many products based on this beautiful blossom are also available for your enjoyment, such as: rose honey, rose sea salt, rose vinegar, rose chocolate, rose marmalade and many others.**
(**Activity available from Mondays to Fridays)
After lunch we will drive back to Quito.
Included: breakfast,  transportation, excursion, english speaking guide, entrance fees, lunch
**If Rose plantation or Indigenous markets are not available the day you are traveling according to this itinerary. Activities can be switched to complete all these visits.
La Pinta is a luxury vessel, featuring some of the largest cabins in the Galapagos,…
Exploring the Amazon and the Andes by your own. You will travel to the Amazon…
Las Palmeras Inn It is a 150 year old hacienda in which the architecture represents…