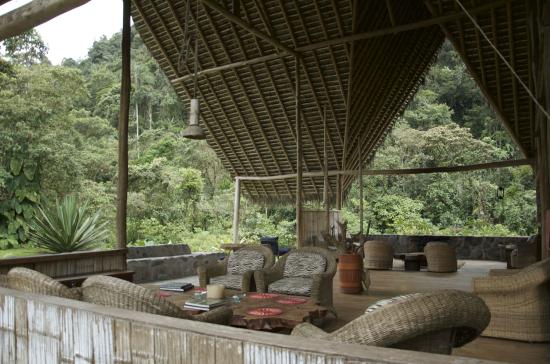 Description
The El Monte Lodge is located just outside the town of Mindo, recognized as a world-class bird watching site by Bird Life International
Day 1: Quito – Mindo
Private transportation from Quito to Mindo,
Mindo has about 370 species of orchids in the reserve. The orchid is undoubtedly one of the most impressive attraction to those visiting the place, the unspoilable range of species on display.
Admire and enjoy the interactive butterfly garden where, surrounded by hundreds of colorful butterflies, we will be able to observe the four stages of a butterfly's life. While you are in the garden you will be able to feed one or more of the 25 different species of butterflies. Later visit to a Garden of Orchids , where you will see about 35 to 60 species of orchids in bloom. Some of them are seen by a magnifying glass. At the end of the tour you have the ability to observe Hummingbirds and other bird species.
The El Monte Lodge is located just outside the town of Mindo, recognized as a world-class bird watching site by Bird Life International. On arrival our hosts will offer a short introduction to the lodge and its garden, plus a few tips in regards bird species will greet us.
El Monte is not simply a place to stay; the Lodge and its owners are dedicated to preserving and protecting the natural beauty of Mindo – Nambillo Forest, one of the most biologically diverse and endangered Cloud Forests in the world.
In the afternoon, our local guide will take us on a 2-hour exploration besides Mindo River the River Mindo and through the nearby forest, we will spot exotic birds, point out local medicinal plants and learn more about explain their uses.
Night at El Monte Ecolodge (Standard room)
Day 2: Mindo
Half Day Cock of the Rock
Today we will make an early start to visit our ´Cock of the Rock´ lek, a place where these marvelous birds congregate to feed.
After a nourishing breakfast, we will walk along the heights of the stunning San Lorenzo Mountain Range, while we walk, our guide will lead the way, and weather permitting, help us catch a glimpse of spectacular birds such as the Golden-Headed Quetzal, the Choco Toucan and the Crimson Rumped Toucanet, amongst many others.
Included: breakfast, private transportation, guided excursion, English speaking guide, entrance fees, lunch, dinner and accommodation
Day 3: Mindo – Quito
Half Day Hummingbird Paradise.
Today we will visit ´Tony's House´, an iconic spot where we can admire more than 24 species of hummingbirds. Tony is an expert on the birds and their songs and has placed a lot of hummingbird feeders around his house, as well as in the forest, to attract the amazing variety of brilliantly colored birds you will see here. More than 19 varieties can regularly be seen, including some of the most rare specimens.
After lunch will be heading back to Quito.
Included: breakfast, English speaking guide, private transportation, lunch and guided excursion.
We return to the hotel for check out at 11:00 a.m. Our transfer leaves Mashpi Lodge at 11:30 a.m. We will be given a complimentary box lunch to enjoy during our drive back to Quito.
Chilcabamba Mountain Lodge you can feel the stillness of the Andean highlands. It's a rugged,…
*SPECIAL DATES AVAILABLE CHRISTMAS TIME 23 to 27 December 2020 *SPECIAL DATES AVAILABLE NEW YEAR…
Discover Buenos Aires city highlights. The elegance of Recoleta and the Colon Theater, the history…