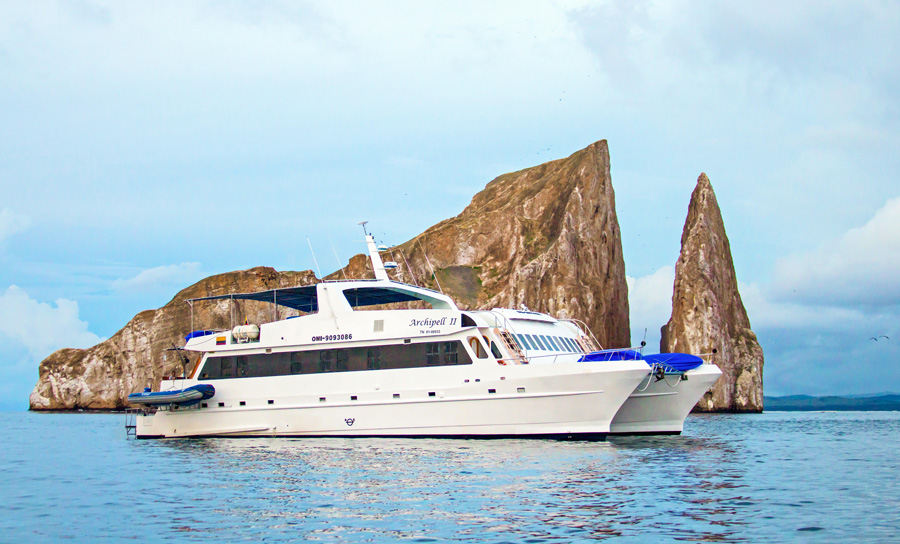 Description
Trust the luxury experience and glowing reputation of the Cormorant I Catamaran. The best complement for travelers to enjoy the wonders of the Galapagos Islands in elegance and comfort with the ones you love most.  This modern catamaran accommodates 16 passengers in luxury cabins and suites, all with private balconies, panoramic windows, and luxury amenities. Additionally, spacious social areas include two well-attended bars, briefing room, indoor dining room, alfresco dining area, and a panoramic sundeck with a jacuzzi.
Itinerary A – From Saturday to Wednesday
5 days – 4 nights // Stateroom 
DAY 1 – SATURDAY 
AM – Arrival at Baltra Airport (GPS)
Upon arrival at Baltra Airport. A guide will meet you, help you collect your luggage, and escort you to the boat
PM – Bachas Beach
Located on the north shore of Santa Cruz, Las Bachas is a swimming beach. One of the few remnants of the U.S. World War II presence in the Galapagos, a floating pier, can be seen here. You may see flamingos, Sally Lightfoot crabs, hermit crabs, black necked stilts, and whimbrels. Sea turtles also nest off the beach.
DAY 2 – SUNDAY
AM: El Barranco
Also known as Prince Phillip's Steps, El Barranco's steep, rocky paths leads up to a high cliff-face. A marvelous view can be appreciated from here. This site is also home to palo santo vegetation as well as red-footed boobies, short-eared lava owls, Galapagos swallows, and Galapagos doves.
PM: Darwin Bay
This white sand coral beach heads a half mile trail (0.75km) that winds through mangroves filled with land birds. Nazca boobies, red-footed boobies, and swallow-tailed gulls can be spotted here. Further down the path are tidal pools where sea lions swim playfully. At the end is a spectacular view off a cliff.
DAY 3 – MONDAY
AM: South Plaza Island
In the morning, you will head to South Plaza Island. This small island with steep cliffs was formed by rising lava and is now covered by Opuntia cacti. It is also home to one of the largest sea lion colonies as well as colorful yellow and red land iguanas. The most characteristic plant is Sesuvium. During the rainy season its color is a greenish to yellowish tone and in the dry season (end of June through January) a bright red.
PM: Santa Fe Island
Santa Fe (Barrington) is home to the small picturesque bay and anchorage on the island's northeast coast. The bay has two visitor trails, one leading to a scenic viewpoint atop a cliff, and the other spanning from a small beach to a tall prickly pear cactus forest.
DAY 4 – TUESDAY
AM: Pitt Point
Pitt Point, situated on the northeastern tip of the island, hosts frigatebirds, storm petrels, and all three types of booby birds: the Nazca, blue-footed and red-footed boobies. A steep trail goes up a cliff and through a ravine leading visitors to an area with an abundance of birds. This site is also great for snorkeling and scuba diving.
PM: Witch Hill
Located on the northern coast, this eroded hill and its surroundings present one of the most picturesque beaches in the Galapagos with its white powdery sand and the abundance of animals. Wildlife includes sea turtles, rays, and various types of booby birds. The clear water provides an excellent opportunity for enjoying swimming and snorkeling.
DAY 5 – WEDNESDAY
AM: "David Rodriguez" Breeding Center
This is a new visitor site in the northeast part of San Cristobal Island and can now be reached in roughly one hour by road from Puerto Baquerizo Moreno. In the Breeding Center, you will be able to admire the hatchling turtles from their birth until the are 120 days old when the grown turtles are taken to their natural habit.
AM: Lobos Island
The name of this island means "Sea Lion Island." This appropriately named island is ripe with noisy, frolicking, jolly sea lions who will welcome you to their home with open, well, fins. This island also offers great snorkeling opportunities as well as the chance to see blue-footed and Nazca boobies.
Transfer to San Cristobal Airport
** Itinerary subject to change.
***END OF SERVICES***
Included:
Accommodation, Meals as per itinerary, Naturalist English speaking guide, Transfers & ground transportation, Activities and visits detailed in the itinerary.
Not Included:
Flights to/from Galapagos Island (mandatory to issue with the cruise service – require the extra cost), Galapagos National Park entrance fee US$100 per adult / US$50 per child under 12 (subject to change), Tourist transit card US$20 per person (subject to change), Beverages, Laundry service, Insurance (prior to your journey please ensure your travel insurance is valid in your country of origin), Gratuities
** Ask for your cruise of 3 or 7 nights!!
Explore Recife and its rich culture, gastronomy and history. Land of cheerful Carnival, musical heritage…
Discover Ecuador in 11 days, the most biodiverse places in the entire world!. We offer…
Tour Highlights: 3 day, 2 Night land-based tour in the Andes Mountains, remarkable accommodations at…