Otavalo + Cotopaxi Lodge-to-Lodge PROMOTION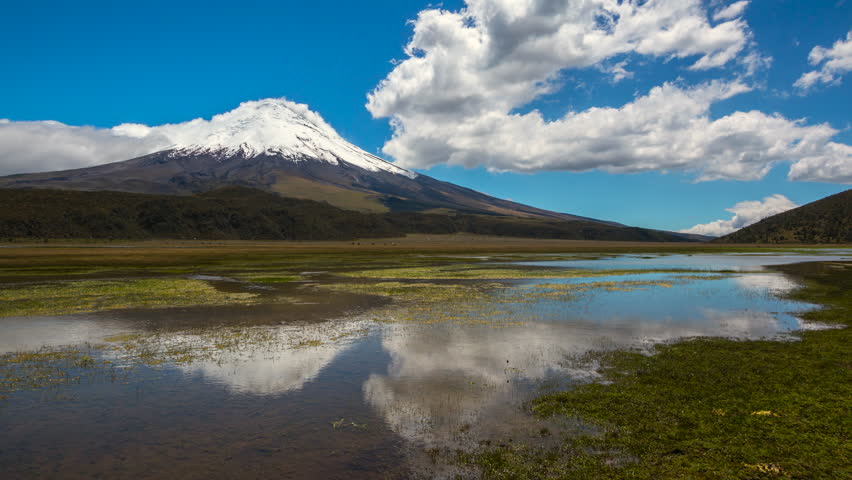 Description
Cotopaxi is an active volcano in the Andes Mountains located about 50 km (31 miles) south of Quito. It is the second highest summit in the country, reaching a height of 5,897 m (19,347 ft) and is one of the world's highest volcanoes. Since 1738, Cotopaxi has erupted more than 50 times resulting in the creation of numerous valleys formed by mudflows around the volcano. The National Park protects the landscape as well as myriad bird and mammal species, including wolves, pumas, bears, rabbits, Andean condors, wild horses, and foxes.
Inspired by our Cotopaxi Adventure Trails program that explores Ecuador famous valley of (active) volcanoes and magnificent views, our Northern Andes extension of this program explores another element that makes Ecuador a mega diverse country: its diverse and beautiful culture! The lakes district in the Northern Andes is a beautiful area to explore, not only for its scenic beauty and interconnected valleys but also for the worldwide famous indigenous market of Otavalo and its fascinating community of local entrepreneurs. Here, under the watchful gaze of the majestic Mount Imbabura, visitors will find the quiet and harmony typical of this primarily Quichua speaking region.
Day 1: Quito- Cotopaxi 
Private transportation from Quito to Otavalo

Night at hotel Las Palmeras Inn
Included:  

transportation 

, 

accommodation and 

dinner
Day 2: Otavalo
Cultural Immersion at Otavalo

We pass the Quichinche community on their traditional pathways connecting to the city of Otavalo and make our first stop at the food market. What better way to understand a culture than by learning about their food! We will explore the market and learn about the different crops which are produced in the surrounding farmlands which we will be exploring over the next few days. Our expert guides will inspire you with information on the colorful, tasteful fruits and vegetables while interacting with the "caseras".

From the food market, we head into the heart of this bustling city market – the Plaza de Ponchos, the biggest Indian market famous for its craft work. Our recommendation: wander and explore it on your own, interact and get a feeling for it. Our guides will be there to assist you in your exploration.

After Otavalo, we will travel back in time to the small communities that surround this big busy commercial town and whose farmers, ranchers and craftspeople make the Otavalo market what it is.

First we will explore the community of Peguche and then continue along the path to a a beautiful 50 ft. (18 m) waterfall which is also an Indigenous Ceremonial Site due to the purification baths held here a couple days prior the Inti Raymi celebration.

Then the hike continue to the town of Agato where we will be hosted by an incredible family that preserves the tradition of weaving on a backstrap loom. Sadly, this art form is slowly dying so be inspired and help us support the conservation of this art! The quality of the items produced at the workshop is clearly superior to many of the machine-woven products you may find in the market and your purchase goes direct into the efforts of this community to revive this ancient art.

In the second part of the day we will explore a more rural area as we hike above these communities learning about small-scale agriculture, an important part of life in the valley. Meet people that continue to farm their land and learn about the products you saw earlier in the market, especially grain crops, like quinoa.

The scenery is gorgeous and from this vantage point in the foothills of Imbabura, you can see all the places we hiked through in the morning. If it's a clear day you can even see Cotacachi Volcano.

At the end of the trail, our supporting vehicle will be waiting for us.

Altitudes:

• Start of the trail: 2605 m.s.n.m

• Otavalo Market: 2582 m.s.n.m

• Peguche Waterfall: 2612 m.s.n.m

• Highest Point Trekking: 2832 m.s.n.m


Box lunch included

Night at Medina del Lago (Standard)
Included: breakfast,  

transportation 

,

english speaking guide 

, 

excursion 

, box 

lunch 

, 

accommodation and 

dinner.
Day 3: Otavalo-Zuleta- Cotopaxi
Communities Zuleta
We leave atowards another indigenous valley with an interesting story of a Hacienda that became a community.
After a quick transfer to the beginning of our trail, we will trek for around 4-5 hours, witnessing what a son of a liberal reformer and a wealthy, land-owning mother did during his lifetime that no landowner in Ecuador had ever done before and perhaps has never done since. Our guide will teach us about the amazing and inspiring Plaza family story and our work with the local community of Zuleta to help develop one of the best ecotourism destinations in the northern Andes of Ecuador.
This agricultural area is famed for its traditional embroidery, dairy products, alpaca farming and highland crops such as wheat, maize, potatoes, lentils and quinoa. "Zuletenos" and "Zuletenas" are known to keep their culture and traditions – keep an eye out for the way the locals dress here and how different it is from the traditional Otavalo clothing.
Altitudes:
• Start of the trail: 3044 m.s.n.m
• Highest Point: 3115 m.s.n.m
• Zuleta Community: 2892 m.s.n.m

Lunch – Cooking Class at Zuleta community

Lunch will be prepared in a local's home that kindly accepted to share his home and life with us and give us a cooking class! We will be using the different ingredients we have been learning about for the past few days.
Included:  

breakfast, english speaking guide 

, 

excursion 

, 

lunch 

, 

transportation 

, 

accommodation and 

dinner.
Day 4: Hike Pasochoa
First peak, Pasochoa

At 4,200 meters this is a challenge that will get our engines revving in anticipation of the second part of our adventure. Access is not difficult, and our hike to the peak will take about 3 hours over grassland trails. From Pasochoa you will get a spectacular view of the mountains surrounding Quito, the inspiring scenery of the volcano's crater, as well as the impressive surrounding mountain crests: Antisana, Sincholagua, Quilindaña, Cotopaxi, Rumiñahui, Corazón and the twin Iliniza peaks.

The second part of our day consists of the descent to the Pedregal Valley, a downhill walk of about 3 hours through grassland, ending at cozy Chilcabamba Lodge, situated at about 3,200 meters above sea level.

Mountain: Pasochoa.

Maximum Altitude: 4,200 meters above sea level.

Hiking time: 7 Hours.

Difficulty: Moderate.

Type of terrain: Grassland trails.

Transportation: Vehicle to the foot of Pasochoa, and walking.

Box Lunch included

Box Lunch included


Night at Chilcabamba Lodge (standard room)
Included:  breakfast,  

transportation 

, 

english speaking guide 

, 

excursion 

, 

box lunch

, 

accommodation and 

 

dinner.
Day 5: Cotopaxi
Included:  

breakfast, 

transportation 

, 

english speaking guide 

, 

excursion 

, 

lunch 

, 

accommodation and 

dinner
DAY 6: Cotopaxi- Quito
ON THE SNOW LINE

From the lodge we will drive in our private vehicle to the parking area of the Cotopaxi mountain refuge. We will then walk for approximately an hour before reaching the mountaineers' lodge, and hike from there to the edge of the glacier, a walk of approximately two hours. From here, the northern side of the mountain offers a spectacular panorama. You will be able to identify (with the help of our guide) all the ground we have covered since the first day of our adventure: Quito, its valleys, the distant mountains in the north, and the road from Pasochoa, through the Pita canyon, to el Pedregal, Sincholagua, Rumiñahui and the magnificent Limpiopungo valley. The descent, which will take approximately 2 hours, takes the same route back to the parking lot and we head back to Quito.

Mountain: Cotopaxi (Glaciers on the snow line).

Maximum altitude: 5,100 meters above sea level.

Hiking time: 4 Hours. Difficulty – Type of terrain: Sandy ground – Glacier / Moderate.

Transportation: Vehicle from Tambopaxi to Cotopaxi parking area and walking and back to Quito

Lunch at a typical ecuadorian food restaurant.


After lunch we will drive back to Quito.
Included:  

breakfast, transportation, english speaking guide, excursion  

and 

lunch.
The reserve has an area of ​​58,560 hectares and an altitude range between 3,800 and…
Cotopaxi is an active volcano in the Andes Mountains located about 50 km (31 miles)…
Exclusivity and personalized service to create the trip of your dreams while exploring the best…