Valid to book from now until 31st March and can be operated until 15th December 2021
Otavalo Cultural Trails 3d-2n/ PROMOTION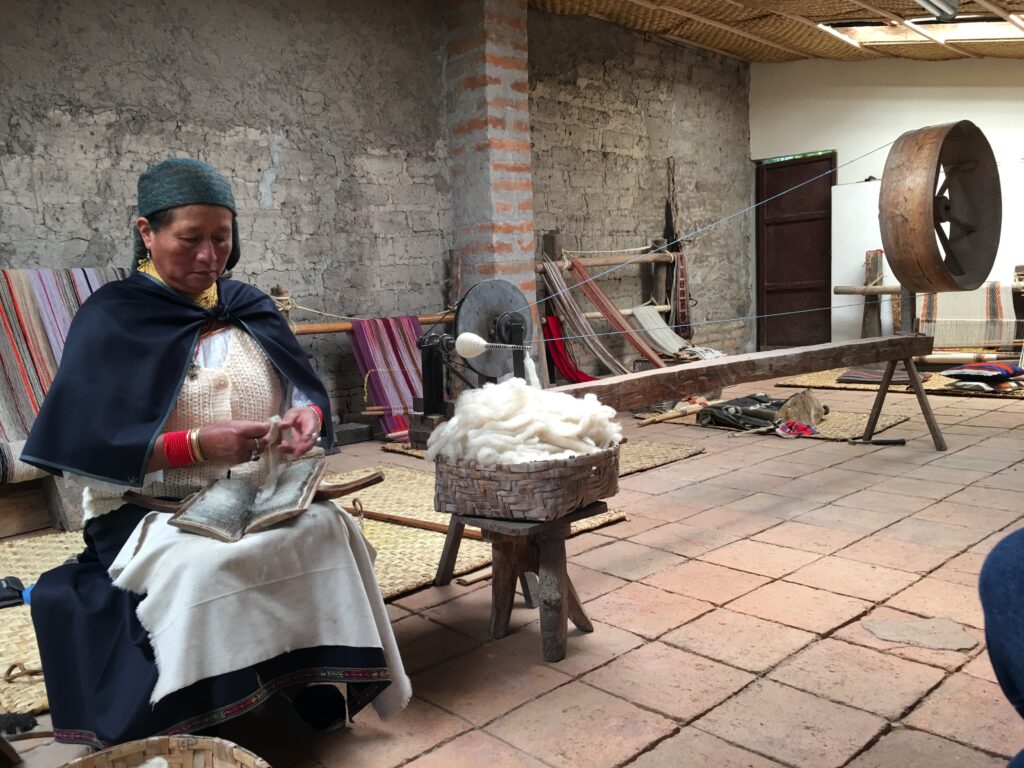 Description
Las Palmeras Inn: It is a 150 year old hacienda in which the architecture represents the traditional Andean house with its imposing palm trees and cabins with chimneys, it is hidden in a lush mountain valley less than two hours north of Quito, Ecuador.
Day 1: Quito -Otavalo
Private transportation from Quito to Otavalo.

Night at hotel Las Palmeras Inn
Included:  

transportation 

, 

accommodation and

 

dinner
Day 2: Otavalo
Cultural Immersion at Otavalo

We pass the Quichinche community on their traditional pathways connecting to the city of Otavalo and make our first stop at the food market. What better way to understand a culture than by learning about their food! We will explore the market and learn about the different crops which are produced in the surrounding farmlands which we will be exploring over the next few days. Our expert guides will inspire you with information on the colorful, tasteful fruits and vegetables while interacting with the "caseras".

From the food market, we head into the heart of this bustling city market – the Plaza de Ponchos, the biggest Indian market famous for its craft work. Our recommendation: wander and explore it on your own, interact and get a feeling for it. Our guides will be there to assist you in your exploration.

After Otavalo, we will travel back in time to the small communities that surround this big busy commercial town and whose farmers, ranchers and craftspeople make the Otavalo market what it is.

First we will explore the community of Peguche and then continue along the path to a a beautiful 50 ft. (18 m) waterfall which is also an Indigenous Ceremonial Site due to the purification baths held here a couple days prior the Inti Raymi celebration.

Then the hike continue to the town of Agato where we will be hosted by an incredible family that preserves the tradition of weaving on a backstrap loom. Sadly, this art form is slowly dying so be inspired and help us support the conservation of this art! The quality of the items produced at the workshop is clearly superior to many of the machine-woven products you may find in the market and your purchase goes direct into the efforts of this community to revive this ancient art.

In the second part of the day we will explore a more rural area as we hike above these communities learning about small-scale agriculture, an important part of life in the valley. Meet people that continue to farm their land and learn about the products you saw earlier in the market, especially grain crops, like quinoa.

The scenery is gorgeous and from this vantage point in the foothills of Imbabura, you can see all the places we hiked through in the morning. If it's a clear day you can even see Cotacachi Volcano.

At the end of the trail, our supporting vehicle will be waiting for us.

Altitudes:

• Start of the trail: 2605 m.s.n.m

• Otavalo Market: 2582 m.s.n.m

• Peguche Waterfall: 2612 m.s.n.m

• Highest Point Trekking: 2832 m.s.n.m

 

Night at Medina del Lago (Standard)
Included:  breakfast,  

transportation 

, 

english speaking guide 

, 

excursion

, box 

lunch

,  

accommodation and

 

dinner.
Day 3: Otavalo-Zuleta-Quito
Communities Zuleta
We leave atowards another indigenous valley with an interesting story of a Hacienda that became a community.
After a quick transfer to the beginning of our trail, we will trek for around 4-5 hours, witnessing what a son of a liberal reformer and a wealthy, land-owning mother did during his lifetime that no landowner in Ecuador had ever done before and perhaps has never done since. Our guide will teach us about the amazing and inspiring Plaza family story and our work with the local community of Zuleta to help develop one of the best ecotourism destinations in the northern Andes of Ecuador.
This agricultural area is famed for its traditional embroidery, dairy products, alpaca farming and highland crops such as wheat, maize, potatoes, lentils and quinoa. "Zuletenos" and "Zuletenas" are known to keep their culture and traditions – keep an eye out for the way the locals dress here and how different it is from the traditional Otavalo clothing.
Altitudes:
• Start of the trail: 3044 m.s.n.m
• Highest Point: 3115 m.s.n.m
• Zuleta Community: 2892 m.s.n.m

Cooking Class at Zuleta community

Lunch will be prepared in a local's home that kindly accepted to share his home and life with us and give us a cooking class! We will be using the different ingredients we have been learning about for the past few days.

After lunch you will be back to Quito.
Included:  breakfast, transportation, e

nglish speaking guide 

, 

excursion and lunch
La Pinta is a luxury vessel, featuring some of the largest cabins in the Galapagos,…
Discover Buenos Aires city highlights. The elegance of Recoleta and the Colon Theater, the history…