Santa Cruz 5d/4n-From 22 to 26 December 2020 (Tourist Class)
PROMOTION: Christmas Departure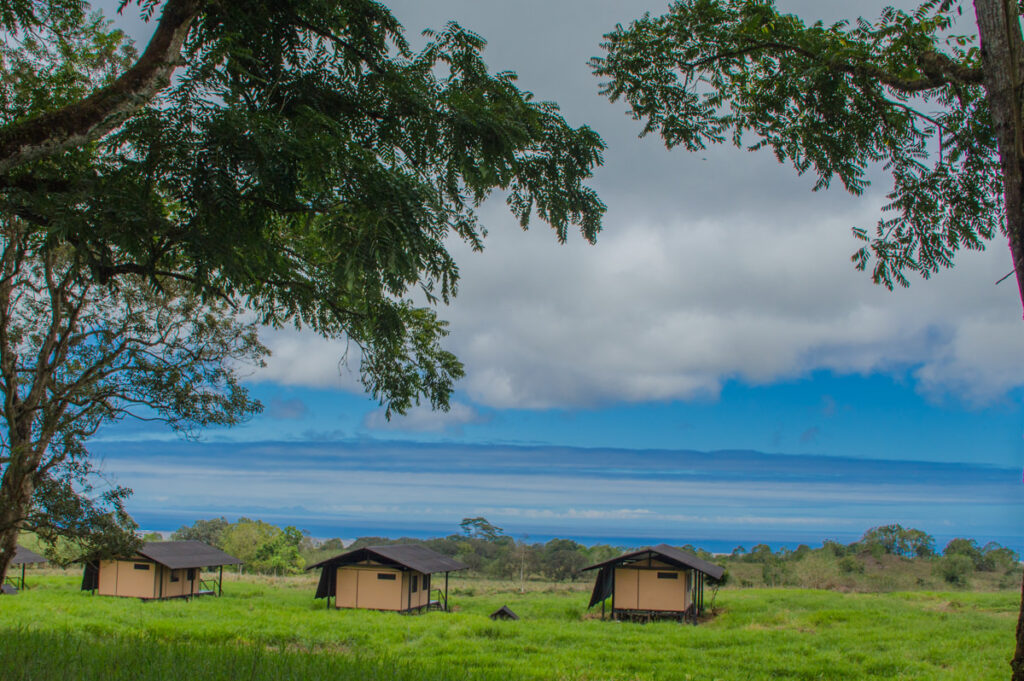 Description
Baltra Island: This tiny island was a military base during the Second World War and hosts the Islands' principal airport. The airport was built using the most advanced environmental techniques to reduce emissions and energy use, some of which you'll notice as you walk through the facility. This was the first ecological airport in the world.
Travelers begin on Santa Cruz Island traveling to the highlands where they will find giant tortoises and be welcomed by the magic of our exclusive tented camp. Day two you will set out on our motor yacht for a visit to some of the more remote uninhabited islands with their exuberant wild life. Day three exploring Tortuga Bay and Charles Darwin Research Station. Day four visit Garrapatero Beach and Hiking Cerro Mesa.
Day 1: Baltra Island
Arrival in the Galapagos
We dive into our adventure as soon as we arrive! We enter the airport through a special VIP lounge where you will have a chance to change clothes, put on some sunscreen and get a cool drink before we transfer to the Itabaca Channel to explore its spectacular turquoise waters. We will have a chance to kayak, snorkel and stand up paddleboard (SUP), as well as encountering some of the most famous Galapagos wildlife such as blue-footed boobies, sea lions, brown pelicans, a variety of herons and white-tipped reef sharks.
There's no better introduction to the Galapagos than to get on the water as soon as possible! We will glide through beautiful red mangrove forests and along lava rock cliffs on water so clear we can see the marine life in the shallows. Our ocean (sit on top) kayaks come in doubles or singles, and life jackets are provided. A support boat will escort us throughout our water activities to ensure safety and to provide water, snacks and towels between activities.
From the Itabaca Channel we head up to the Santa Cruz highlands to a private reserve that borders the National Park, where we can see the famous Giant Tortoises roaming in the wild.
There will be lunch at the reserve for us.
After lunch we drive to our exclusive giant tortoise reserve where our tented camp is located. Perched high on a hillside overlooking the ocean, Magic Galapagos Tented Camp will be our home for the next two nights. The sounds of nature will serenade us in the evenings, and the Milky Way will be our night light. We'll be able to feast our eyes on the mountains and forests surrounding the Camp, and enjoy the peace of having the entire hillside to ourselves, with the exception of seasonal resident giant tortoises.
Watching the colorful sunset from Magic's western perch is the perfect segue into evening. Dinners are sumptuous three course affairs, prepared by expert chefs in an open-air kitchen in the main lodge. A favorite post-dinner activity is a short walk to the reserve's natural lava tubes, for a night cap in the one-of-a-kind 'Lava Lounge!' It's the perfect spot to relax around the fire and share stories from the day's adventures.
Technical Details:
Difficulty: Easy to moderate
Kayak: 1.5-2 hours depending on fauna activity and skills of kayakers
Means of Transportation: boat, kayak, stand up paddleboard and private transportation to Galapagos Magic.
Night at Galapagos Magic (Standard Tent)
Included:  English speaking guide , , excursion , Airport VIP services , transportation , attraction , lunch , insurance , accommodation and breakfast , dinner
Day 2: Navigable Tour
Navigable Tour to neighbor islands
Embark our motor yacht and enjoy of a daily excursion with a welcoming crew members and knowledgeable naturalist guide as you experience the remote islands in comfort and style.
Our daily excursions will take you to experience the Galapagos Islands in a safe and comfortable manner. We can visit North Seymour and Bachas, South Plazas, Santa Fe Island or Bartolome, and Sullivan Bay. Along the way, we might see leaping rays or other sea life, while enjoying the vastness of the Pacific. The yacht tour lets you see the Islands and their wildlife in their most pristine state. Island visited may vary according to National Park regulations
Night at Galapagos Magic (Standard Tent)
Included:  transportation , local guide , lunch , insurance , accommodation and breakfast , dinner
Day 3: Tortuga Bay and Charles Darwin Research Station
Tortuga Bay
After walking through a deciduous forest for 2.5 Km (~1.5 miles) we will reach one of the most beautiful beaches in the archipelago. We will continue walking along this white sand beach for another 1 Km (~0.6 mile) until we reach the Playa Mansa where we can enjoy a special kayaking ride around the Bay.
Charles Darwin Research Station
The Charles Darwin Research Center is the matrix of all the scientific researches in the Galapagos Islands. It is from these headquarters from where all the most sensitive conservation projects are being directed. The conservation and preservation of giant tortoises, marine iguanas among others are some of the examples of the Center labor. We can walk along the core of the Research Center where we can find the corrals where the giant tortoises are being breed as well as the corrals where the land iguanas are being studied. The Research Center offers a brand new Interpretation Center with some of the most important samples of the Center Collection.
Hotels
Overnight at Mainao hotel (Standard room) *tourist class
Night at Hotel Ikala Galapagos (Standard Room) *superior class
Night at Galapagos Habitat (Standard room) *first class
Included:  English speaking guide , transportation , attraction , lunch , excursion , , accommodation and breakfast
Day 4: Garrapatero Beach and Hiking Cerro Mesa
El Garrapatero beach
we drive to an off-the-beaten-path area of Santa Cruz Island, to get Garrapatero beach. On the way we will stop to visit the lava tunnels. These tunnels were formed as the outer skin of molten lava solidified but the liquid magma inside continued flowing, leaving behind a series of empty tubes. Walk through these underground channels.
Later continue Garrapatero Beach, once there we may see a few local families, but few, if any, tourists.
Optional sit-on-top sea kayaks , enjoying our last day on the water in the Galapagos, while looking for sharks, rays, turtles, and sea birds.
Hiking Cerro Mesa
We start the day with a visit to the Cerro Mesa viewpoint, from where we can admire the whole southern shore of Santa Cruz. We then continue on towards one of the iconic formations in Galapagos Cerro Mesa where we will hike downhill for about 30 minutes to the bottom of this collapsed crater. We'll explore the fascinating crater floor and relax for a while before starting the hike back (45 min – 1 hr). During our hike, we will have excellent opportunities to see endemic bird species such as the Woodpecker Finch, or if we are very lucky, giant tortoises.
Overnight at Mainao hotel (Standard room) *tourist class
Night at Hotel Ikala Galapagos (Standard Room) *superior class
Night at Galapagos Habitat (Standard room) *first class
Included:  accommodation and breakfast , English speaking guide , transportation , excursion , lunch , attraction
Day 5: Departure day
After breakfast you will be transfered to Baltra airport to take your flight to continent
Included:  transportation , breakfast
Cotopaxi is an active volcano in the Andes Mountains located about 50 km (31 miles)…
Tour Highlights: 7 day, 6 night land-based, unforgettable accommodation, transfers and ground transportation, 2 nights…
Exploring the Amazon and the Andes by your own. You will travel to the Amazon…