Santa Cruz + San Cristobal
The Mountain and The Sea – 6 days program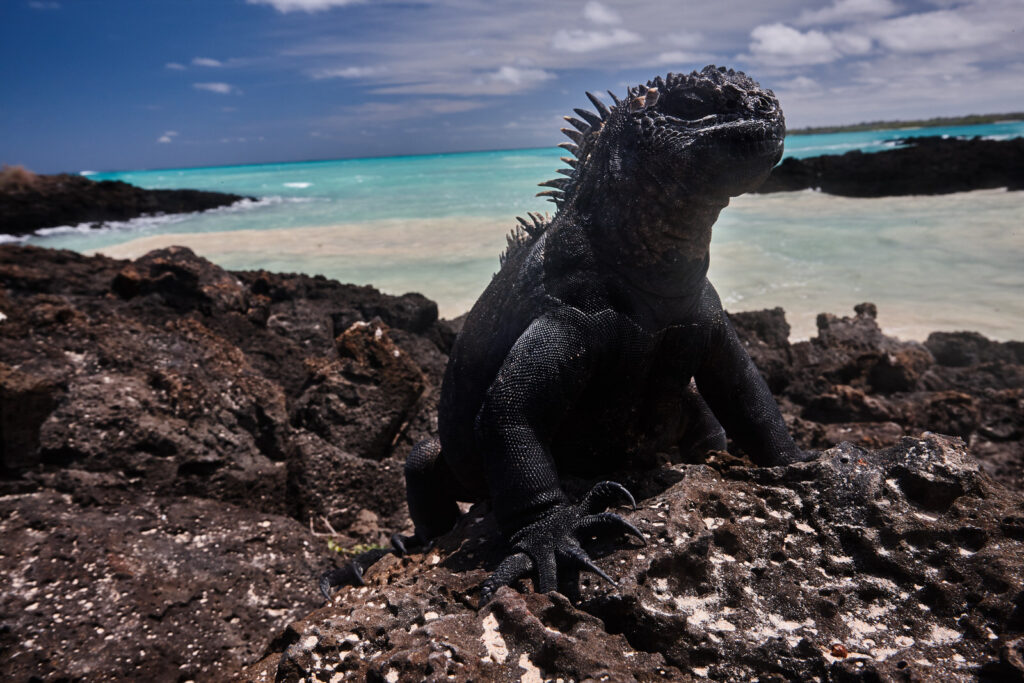 Description
'The Mountain and The Sea' will allow travelers to embrace the romance of exploration and discovery in the Galapagos with a true local flavor. We pro'The Mountain and The Sea' will allow travelers to embrace the romance of exploration and discovery in the Galapagos with a true local flavor. We promise they'll fall head over heels.mise they'll fall head over heels.
Itinerary:
Day 1: Baltra Island to Santa Cruz Island
Day 2: Santa Cruz Island
Day 3: Santa Cruz Island
Day 4: Santa Cruz to San Cristobal Island
Day 5: San Cristobal Island
Day 6: San Cristobal to Airport
Lodging: Galapagos Magic and Hotel Casa Blanca (subject to change)
Day 1:Santa Cruz Island

Today we arrive in Baltra Island, the gateway to the Galapagos. This tiny island was a military base during the Second World War and hosts the Islands' principal airport. The airport was built using the most advanced environmental techniques to reduce emissions and energy use, some of which you'll notice as you walk through the facility. This was the first ecological airport in the world.

We enter the airport through a special VIP lounge where you will have a chance to change clothes, put on some sunscreen and get a cool drink before we transfer to the Itabaca Channel where the transfer will be waiting to take us to an exclusive giant tortoise reserve where our tented camp is located.

Perched high on a hillside overlooking the ocean, Magic Galapagos Tented Camp will be your home for the next two nights. The sounds of nature will serenade you in the evenings, and the Milky Way will be our night light. We'll be able to feast our eyes on the mountains and forests surrounding the Camp and enjoy the peace of having the entire hillside to ourselves, with the exception of seasonal resident giant tortoises.

Watching the colorful sunset from Magic's western perch is the perfect segue into evening. Dinners are sumptuous three course affairs, prepared by expert chefs in an open-air kitchen in the main lodge. A favorite post-dinner activity is a short walk to the reserve's natural lava tubes, for a night cap in the one-of-a-kind 'Lava Lounge' bar. It's the perfect spot to relax around the fire and share stories from the day's adventures.

Night at Galapagos Magic (Standard Tent)

Highlands Tour

Early in the morning we will go to Garrapatero Beach, where our kayaking activity takes place. We'll paddle from the beach along the bay for about 45 minutes. We can also take a short walk to the brackish lagoon where we have high possibilities of finding pink flamingos.

Then, we drive to an off-the-beaten-path area of Santa Cruz Island, the Cerro Mesa viewpoint, from where we can admire the whole southern shore of Santa Cruz. We will continue towards one of the iconic formations in Galapagos that resembles a crater where we will start a hike downhill for about 30 minutes to the bottom of this collapsed crater. We'll explore the crater floor and relax a bit, then start the hike back uphill (45 min – 1 hr). During our hike, we will have excellent opportunities to find endemic species such as the woodpecker finch, or if we are very lucky, giant tortoises.

After a delicious lunch we will visit "EL Trapiche" (trapiche is the Spanish word for sugar mill). We will have the opportunity to glimpse into the daily lives of the locals by experiencing how they produce sugar cane. Here you can see how this rustic, mule-driven sugar cane press operates. You will also learn about different cane alcohol distilling techniques as well as some traditional coffee roasting tricks.

We finish the day with the visit to Los Gemelos (the twins), two large craters that were once underground magma chambers. When the magma chambers caved in they left two huge, impressive looking craters.

Night at Galapagos Magic (Standard Tent)
Santa Cruz Island

After breakfast we will go to Puerto Ayora where we will walk to the beautiful Tortuga Bay beach where you can spot marine iguanas, go for a swim, snorkel or just relax on the pristine sand. Turtle Bay is a beautiful white sand beach, so named because it is a nesting site for the black turtle.

After a delicious lunch we will visit The Charles Darwin Research Center, which is the hub of all scientific research in the Galapagos Islands. It is from these headquarters where all the most sensitive conservation projects are being directed. The conservation and preservation of giant tortoises and marine iguanas are some of the examples of the Center's labor. We can walk along the core of the Research Center where we can find corrals where the giant tortoises are housed for breeding projects, as well as the corrals where land iguanas are being studied. The Research Center has a brand new Interpretation Center with some of the most important samples of the Center collection.

Then, we head to Chocolápagos where we will meet the owner, Juan Daniel Navarro, who will explain the history of cacao in Ecuador and around the world. He was born in Galapagos and has a beautiful family with whom he started this sweet business a few years ago. Juan Daniel will demonstrate the tempering process and how to make a delicious chocolate tortoise. You will have the chance to choose between two types of Ganaches to fill your chocolate, the toughest decision of the day!

There will be time for questions and then you'll get to indulge in your handmade chocolate.

Night at Galapagos Magic (Standard Tent)
Day 4:Santa Cruz Island- San Cristóbal Island
Early in the morning we will head to the Puerto Ayora dock to take the public speedboat to San Cristobal.
Transfer to hotel. Several supplementary activities can be arranged on San Cristobal Island at extra cost. Check our suggestions below and ask our sales consultants for further information.
Visit to Kicker Rock
Leon Dormido, made of two rocks in the form of an obelisk jutting dramatically out of the sea, is considered one of the top snorkel and dive sites in the Galapagos, and here yo can use the snorkeling equipment to explore a channel between the rocks. Stingrays, white-tipped reef sharks, hammerhead sharks, turtles, tropical fish and eagle rays all live in the waters around Leon Dormido and if you are lucky you may even get to spot dolphins and whales!
Galapagos Bird Life, Land, and Marine Exploration
Hiking to Cerro las Tijeretas or Frigate Hill, which gets its name from the large number of Frigate Birds (Tijeretas) that live and nest here. On our walk along the lava rock trails we will be able to see interesting endemic plants and the spectacular birdlife of the Galapagos. There are great views of the coastline and our first encounter with the underwater marine life at Darwin bay.
Then, continue on to the striking Carola Beach where you can take another dip if you want. Here you will find sea turtles, sea lions, and marine iguanas.
Back at Mann Beach you can kayak (additional cost), providing a perfect end to a perfect active and relaxed day in these enchanted islands.
Highland San Cristobal
Visit Cerro Colorado Reserve. From the entrance of the Reserve we will walk slightly more than a kilometer to Puerto Chino beach. This is a spectacular beach where you can find endemic plant species and colonies of seals and other animals, and where we will have time to snorkel.
You can also visit and take a relaxed walk around El Junco lagoon. This body of water is the largest source of fresh water on the island.
Night at Hotel Casa Blanca (standard room)
Day 5:San Cristóbal
Day at leisure.
Night at Hotel Casa Blanca (standard room)
Day 6:San Cristóbal Island
It is time to say goodbye to the enchanted islands, but before taking your flight to the continent you will have the chance to explore the town and buy some souvenirs.
***END OF SERVICES***
Includes:
* VIP lounge at Baltra
* English-speaking naturalist guide
* 5 Nights Lodging
* Daily breakfast and meals (detailed in itinerary)
* Transfers & ground transportation
* Speedboat transfer
* Excursions (detailed in itinerary)

Not Included:
* Flights (all flights from mainland Ecuador to the Galapagos Islands can be arranged upon request)
* Galapagos National Park entrance fee (US$100 per adult / US$50 per child under 12 – subject to change)
* Tourist transit card (US$20 per person – subject to change)
* Beverages, Laundry service, Insurance (prior to your journey please ensure your travel insurance is valid in your country of origin)
* Gratuities and personal expenses
You can choose one of our programmed tours or request a custom tour designed specifically for you. Contact us to start planning your visit to Ecuador today.
This program is the best one to experience the best of Bolivia´s tropical lowlands! A combination of "Pampas", a perfect place to spot wildlife, with of course Madidi National Park, one of the most biodiversed places on Earth. Here we will enjoy day and night walks, discover hidden secrets, sleep on hanging tree tents and much more!
Iberá is the second largest wetland of South America, with an extension of 12.000 km2…
The bustling city of Rio de Janeiro has been one of Brazil's most popular and frequented tourist destinations for decades. This vibrant city is bursting with culture and pulsating with a deep sense of history and heritage. A huge urban forest almost touching the Atlantic Ocean is a unique feature for this beautiful place on earth. After the exciting Rio, travel to meet one of the 7 Wonders of the Nature, The Iguassu Falls. Large Waterfalls nurturing the amazing flora and fauna of the region.