Valid to book from now until 31st March and can be operated until 15th December 2021
Cotopaxi Adventure Trails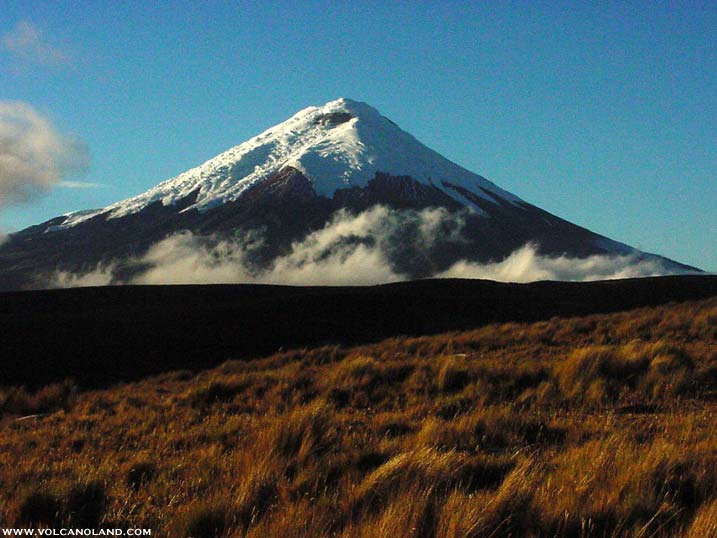 Description
Cotopaxi is an active volcano in the Andes Mountains located about 50 km (31 miles) south of Quito. It is the second highest summit in the country, reaching a height of 5,897 m (19,347 ft) and is one of the world's highest volcanoes. Since 1738, Cotopaxi has erupted more than 50 times resulting in the creation of numerous valleys formed by mudflows around the volcano. The National Park protects the landscape as well as myriad bird and mammal species, including wolves, pumas, bears, rabbits, Andean condors, wild horses, and foxes. Keen climbers and trekkers arrive to Cotopaxi from all corners of the world, excited to explore its unique landscapes and to try and capture some of the park's wild spirit. Whether you want to conquer a volcano or relax and admire the Andes' beauty, Cotopaxi National Park never fails to satisfy. Exploring four different volcanoes from different perspectives, you will hike through spectacular valleys and verdant grasslands, travelling from rocky mountain peak to volcanic glacier, and all in the most environmentally responsible way: walking!
Day 1: Quito- Cotopaxi
Private transportation  from Quito to Cotopaxi.

First peak, Pasochoa

At 4,200 meters this is a challenge that will get our engines revving in anticipation of the second part of our adventure. Access is not difficult, and our hike to the peak will take about 3 hours over grassland trails. From Pasochoa you will get a spectacular view of the mountains surrounding Quito, the inspiring scenery of the volcano's crater, as well as the impressive surrounding mountain crests: Antisana, Sincholagua, Quilindaña, Cotopaxi, Rumiñahui, Corazón and the twin Iliniza peaks.

The second part of our day consists of the descent to the Pedregal Valley, a downhill walk of about 3 hours through grassland, ending at cozy Chilcabamba Lodge, situated at about 3,200 meters above sea level.

Mountain: Pasochoa.

Maximum Altitude: 4,200 meters above sea level.

Hiking time: 7 Hours.

Difficulty: Moderate.

Type of terrain: Grassland trails.

Transportation: Vehicle to the foot of Pasochoa, and walking.

Box Lunch included

 


Night at Chilcabamba Lodge (standard room)

 
Included:  

transportation

, 

English speaking guide

, 

excursion

, 

Snack during the activity

, , 

accommodation and 

 

dinner
Day 2: Cotopaxi
Cotopaxi Trail

Today we head to Cotopaxi National Park, one of Ecuador's most beautiful protected areas. On a clear day it is possible to see Cotopaxi's peak from parts of Quito, but its majesty can only be truly experienced from within the borders of the park. When the weather cooperates, views of its snow-capped, almost symmetrical cone like summit are awe-inspiring. Our hike starts at the Pita River which provides essential drinking water to hundreds of thousands of Quiteños (as Ecuador's capital city residents are known); its source is the pristine glacial melt water of Mt. Cotopaxi. The Pita's rushing waters will accompany us throughout much of our adventure.

This is a special and beautiful hike, but it's about more than just the beauty and activity. By hiking here, we are working to conserve the Pita River. The hike is designed to raise awareness for both locals and visitors alike about the importance of this body of water, how conserving it is important, and how melting glaciers will impact our population.

The hike enters Cotopaxi National Park and we head towards an archeological site called Pucara de Salitre, where we can see a variety of migrant and resident Andean birds. On the way, we might see some of the wild horses, deer or llamas that make the park their home, as well as gorgeous seasonal mountain wildflowers and breathtaking scenery. We will spend time at the water's edge of the Pita and the Park's natural springs, admiring classic views of Cotopaxi Volcano or perhaps the reflection of Mt. Rumiñahui Mount in the waters. During our adventure, we will stop to enjoy a picnic in the crisp alpine environment.

We will finish our exploration at Limpiopungo Lake where our transportation will be waiting for us to drive us back to our mountain lodge.

Mountain: Cotopaxi

Maximum Altitude: 3,755 meters above sea level.

Hiking time: 5 Hours.

Difficulty: Easy

Type of terrain: Forest– grassland trails.

Transportation: Walking.

Box lunch included

 

Night at the Tambopaxi (Standard Room)


 
Included:  

breakfast, excursion

, 

transportation

, 

English speaking guide

, 

Snack during the activity

, 

lunch

, 

accommodation and

 

dinner
Day 3: Cotopaxi
ON THE SNOW LINE

From the lodge we will drive in our private vehicle to the parking area of the Cotopaxi mountain refuge. We will then walk for approximately an hour before reaching the mountaineers' lodge, and hike from there to the edge of the glacier, a walk of approximately two hours. From here, the northern side of the mountain offers a spectacular panorama. You will be able to identify (with the help of our guide) all the ground we have covered since the first day of our adventure: Quito, its valleys, the distant mountains in the north, and the road from Pasochoa, through the Pita canyon, to el Pedregal, Sincholagua, Rumiñahui and the magnificent Limpiopungo valley. The descent, which will take approximately 2 hours, takes the same route back to the parking lot and we head back to Quito.

Mountain: Cotopaxi (Glaciers on the snow line).

Maximum altitude: 5,100 meters above sea level.

Hiking time: 4 Hours. Difficulty – Type of terrain: Sandy ground – Glacier / Moderate.

Transportation: Vehicle from Tambopaxi to Cotopaxi parking area and walking and back to Quito


Private transportation from Cotopaxi to Quito
Included:  breakfast,  

excursion

, 

Snack during the activity

, 

lunch

, 

transportation

, 

English speaking guide
Included:  Bilingual Naturalist Trekking Guide. Transportation and support vehicle for luggage throughout the program.  Meals as described on itinerary. Accommodation at comfortable lodges First Aid Kit.
Not included: Park Entrance fees. Tips. Alcoholic and non alcoholic beverages. Gear of any type
What to bring – clothes and mountain equipment: High ankle hiking boots (please do not bring new boots) and walking sticks. Long sleeve, synthetic, waterproof thermal jacket.  A warm impermeable jacket with fleece (goretex o similar). Quick drying walking pants. Waterproof pants. Gloves, warm hat, sun hat and kerchief.  A small towel.  A flashlight lantern, water bottle, knife, sun glasses.
Las Palmeras Inn It is a 150 year old hacienda in which the architecture represents…
This trip invites you to discover the main aspects of the central zone of the…
This 7-day lodge to lodge trekking experience will take you on a historic section of…