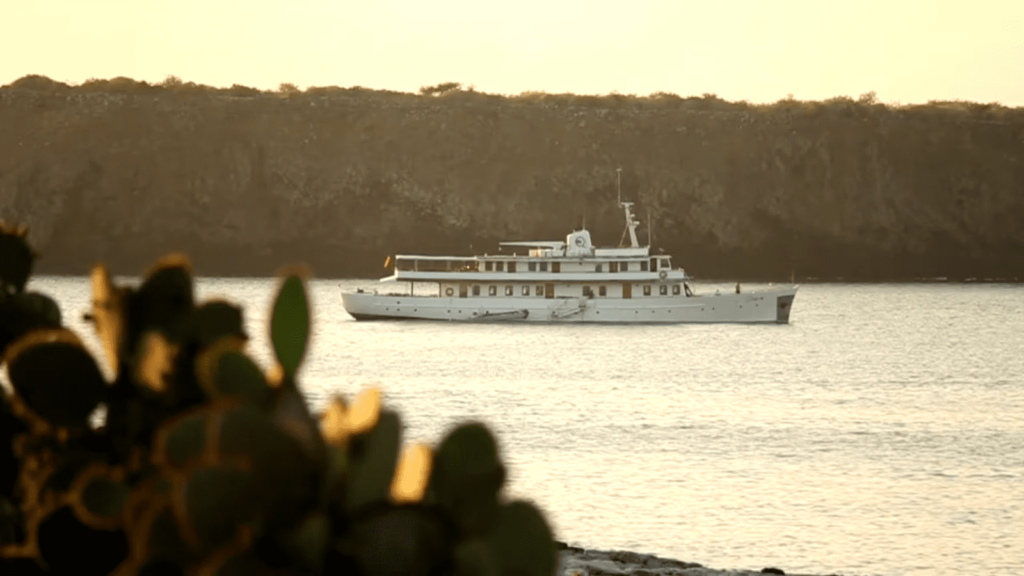 Description
The stellar past of this 16-guest Camper & Nicholson yacht includes ownership by millionaire tycoons, the royalty of Monaco, and a stint in the British Navy during WWII. Guests who cruise aboard the M/Y Grace will get to experience the islands the way Darwin did in the past: personally and privately, but with the added distinction, comfort and elegance of today. Cruise the Galapagos Islands like a Prince and Princess, aboard Grace Kelly's royal honeymoon yacht.
Itinerary FOLLOWING DARWIN'S TRAIL
From Tuesday to Tuesday
8 days – 7 nights // Premium staterooms
TUESDAY (DAY 1)
Santa Cruz Island: Bachas Beach
AM: Today we fly to Baltra Island in the Galapagos in the morning. Flight time is just under two hours from the mainland. Upon arrival we board your yacht where you will have lunch and a quick briefing en route to our first visitor sites: Bachas Beach.
PM: In the afternoon we visit Las Bachas, a sandy white-coral beach that is a major egg-laying site for sea turtles. The name Bachas refers to the remains of landing craft left here at the end of WWII. Ashore marine iguanas mingle with flamingos and other wading birds in another of the many super saline lagoons found in the Galapagos.  After this visit you have time for a shower as we get ready for our welcome cocktail and our first formal briefing before dinner. (lunch, dinner)
WEDNESDAY (DAY 2)
Genovesa island: Darwin Bay & Prince Phillip's Steps
AM: Tower Island could serve as a film set for a secret submarine base! The southern part of the island is an ocean-filled caldera ringed by the throat of a sizeable and mostly submerged volcano. The island sits to the northwest, slightly removed from the Galapagos archipelago. It is also known as "Bird Island" and home to Prince Phillip's steps. This is the best Galapagos landing site to see red footed boobies, comically perched by wrapping big red feet around tiny branches. We walk a short distance to seek out short eared owls preying on swarms of storm petrels. The snorkeling at the foot of the steps is amazing with large, brightly colored tropical fish taking on a neon quality against the black lava background.
PM: Take time to kayak beside the walls of the sunken caldera before our afternoon visit to Darwin Bay, which lives up to that name in a spectacular way! A gorgeous tidal grotto forms the backdrop to the gaggle of nesting and soaring seabirds birds and path leads up to the rookery cliffs for views of the bay and colonies of gulls, tropic birds and frigates. (breakfast, lunch, dinner)
THURSDAY (DAY 3)
Santiago Island: James Bay
AM: Morning visit to James Bay, where we land on a black beach with intriguing eroded rock formations. A trail leads to a series of crystal-clear grottos with a natural bridge formed of broken lava tubes. This is the best place in the Galapagos to see fur seals and equally best place to see samurai like marine iguanas feeding in tidal pools nearby. You will find a colony of sea lions here and Galapagos hawk frequent the area. Snorkeling offers encounters with Green Sea Turtles and tropical fish.(breakfast, lunch, dinner)
FRIDAY (DAY 4)
Isabela Island: Punta Vicente Roca & Tagus Cove
AM: In the morning we visit Punta Vicente Roca on Isabela Island. Snorkeling is incredible here as a result of the nutrient-rich waters of the Humboldt Current that bathe the western side of the archipelago. We will have a chance to see colorful fish, sea lions, penguins and sea turtles in the water.
PM: In the afternoon we visit Tagus Cove on Isabela Island a wooden stairway rises to the trail entrance and continues around Darwin Lake through a dry vegetation zone, and ends in a promontory formed by spatter cones. The site provides spectacular views of our anchorage in the bay, as well as Darwin and Wolf Volcanoes. The green algae underwater pastures of the cove offer the chance to snorkel with marine iguanas, sea turtles, penguins and sea horses. (breakfast, lunch, dinner)
SATURDAY (DAY 5)
Fernandina Island: Punta Espinosa & Isabela Island Urbina Bay
AM: Morning visit to Fernandina Island, home to La Cumbre volcano, which erupts frequently (most recently in May 2005). We visit Punta Espinoza, a narrow spit of land, where a number of unique species, such as flightless cormorants, marine iguanas, sea turtles, Galapagos Penguins and Galapagos hawks can be seen in close proximity.
PM: Urbina Bay is directly west of Isabela's Volcano Alcedo, where we will make an easy, wet landing (a hop into a few inches of water). We walk on a stretch of three miles (5 km) of the marine reef that has been uplifted by as much as 13 feet (4 meters) out of the water. A highlight of this excursion are the giant land iguanas and giant tortoises, as well as the opportunity to go snorkeling amongst marine creatures, or just relaxing on shore. (breakfast, lunch, dinner)
SUNDAY (DAY 6)
Isabela Island: Elizabeth Bay & Punta Moreno
AM: A panga ride brings us to a protected mangrove lagoon, where sea lions sleep in trees (tree lions). Sea turtles and manta rays surface in the quiet waters while Galápagos hawks circle overhead. Outside the lagoon sit three islets known as Las Marielas, home to the largest concentration of Galápagos penguins on the islands.
PM: In the afternoon we visit Punta Moreno, a place where the forces of the Galápagos have joined to create a work of art. In the places where the roof of a large swirling black-lava flow gave way to form craters, crystal tidal pools have formed, some surrounded by mangroves. These are a magnet for wildlife, including flamingo, great blue herons and pintails. One can walk to the edge of the lava to look straight down at the inhabitants of the pools, including the occasional green sea turtle, white-tipped sharks and puffer fish. (breakfast, lunch, dinner)
MONDAY (DAY 7)
Santa Cruz Island: Highlands and The Charles Darwin Research st.
AM: Santa Cruz is the second largest island in the Galapagos and its capital, Puerto Ayora, is the economic center of the Islands. In the morning we visit the Charles Darwin Research Station to visit the Giant Tortoise and Land Iguana Breeding and Rearing Program. Here we used to find Lonesome George (now deceased), the last of his particular race of tortoise.
PM: In the afternoon we are off to the Highlands of Santa Cruz, where the dry coastal vegetation transitions to lush wet fields and forests overgrown with moss and lichens. Our destination is the Tortoise Reserve, where we will have chances see these animals in the wild, walk through lava tubes and see the Gemelos, twin collapsed craters. (breakfast, lunch, dinner)
TUESDAY (DAY 8)
Santa Cruz Island: Los Gemelos
AM: Today our Galapagos cruise comes to an end, but before we bid farewell to this magical archipelago we pay a visit to Los Gemelos (twin craters). The craters, created when the volcanic roof of empty magma chambers collapsed from tectonic shifts, are located in the highlands of Santa Cruz Island. The area is surrounded by lush scalesia forests giving a habitat for bromeliads, orchids, mosses, lichens and many birds, including the famous vermillion flycatcher. Next we continue our ride to Baltra and its airport where we cross the Itabaca Channel and take our flight back to the Ecuadorian mainland. (breakfast)
** Itinerary subject to change.
***END OF SERVICES***
Included:
Accommodation, Meals as per itinerary, Naturalist English speaking guide, Transfers & ground transportation, Activities and visits detailed in the itinerary.
Not Included:
Flights to/from Galapagos Island (mandatory to issue with the cruise service – require the extra cost), Galapagos National Park entrance fee US$100 per adult / US$50 per child under 12 (subject to change), Tourist transit card US$20 per person (subject to change), Beverages, Laundry service, Insurance (prior to your journey please ensure your travel insurance is valid in your country of origin), Gratuities
Tour Highlights: 3 day, 2 Night land-based tour in the Andes Mountains, remarkable accommodations at…
La Pinta is a luxury vessel, featuring some of the largest cabins in the Galapagos,…
Las Palmeras Inn It is a 150 year old hacienda in which the architecture represents…